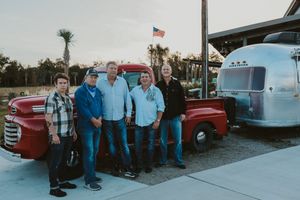 ABOUT
BIO
The tale of the Blue Dogs begins in South Carolina, where two lifelong friends formed a band that is now revered for their feel-good original songs, upbeat shows, and an effortless blend of rock, pop and country. That story continues with Big Dreamers, their long-awaited first album in 16 years. Produced by accomplished guitarist Sadler Vaden, who's been a fan of their music since he was a teenager, the collection solidifies the Blue Dogs as one of the state's most beloved and enduring bands. 
Founded in 1987 and based in Charleston, the group is still led by songwriters Hank Futch (bass) and Bobby Houck (lead singer, acoustic guitar), who grew up together in Florence, South Carolina. For this project they were joined in the studio by guitarist Dan Hood, steel guitar player Charlie Thompson, and longtime drummer Greg Walker. Meanwhile, former member Phillip Lammonds co-wrote three of the new songs, making Big Dreamers feel like a full circle moment. 
"We're doing this to follow that dream of playing music and sharing our sound with whoever wants to listen," Futch says. "We've probably been Americana before that became a term. But we didn't feel like we had to be anything other than ourselves to write these songs." 
Houck adds, "We still have something to say. We can write good songs that we like, knowing other people will like them too. We've got a lot more to do, more places to play, and maybe bigger places to play. Because of this album, we get to live this dream longer than we thought." 
Vaden went right for the classic Blue Dogs vibe in the opening track, "The Good Ones," a nostalgic song that may remind longtime fans of '90s albums like Music for Dog People, Soul Dogfood, Blue Dogs, and Letters from Round O. However, more than once, Vaden took the band members out of their comfort zone, too. Everyone worked efficiently in the studio, trusting one another and relying on Vaden's keen instincts as a guitarist. A member of Jason Isbell & The 400 Unit, he has recorded with Bahamas, Beck, Drivin N Cryin, and Josh Ritter, to name a few. 
"I have a history with these guys," Vaden says. "They used to hire me when I was 18 or 19 years old to play with them. I've always admired their sound, even on their albums before I started playing with them, but this record represents the best part of the Blue Dogs in my mind. It's return to form that also brings out the highlights of their last record. Some things are polished and some things are a little more raw." 
After nearly two decades on the road, the Blue Dogs took an extended break from touring in 2007 as Futch and Houck accepted jobs outside of music to support their new families. Yet they both filed away occasional phrases and potential titles, just in case they ever had a chance to make another album together. After committing to studio time with Vaden in Charleston, Houck says he felt a longstanding writer's block begin to dislodge. In the meantime, Futch had been chipping away at an idea that would ultimately become the album's title track. 
"'Big Dreamers' is a song that celebrates family," he says. "It celebrates where Bobby and I have been for the last 15 years, raising a family. That's been a priority for us. It's been nice to put music up there as a priority again, and to get the creative juices flowing. We owe it to ourselves, we owe it to our friends, and we owe it to our families, too." 
There's a Blue Dogs signature swagger heard on "Young Love" and "All Night Long," while "That's How I Knew" is an irresistible ode to finding the right relationship. With its positive and inclusive outlook, "Love Is Love" embraces all listeners, just as "The Good Road" proves that it's never too late to turn things around. 
Family bonds are woven into the songwriting as well. Futch's daughter helped start the idea of "Big Dreamers" and thus earns a writing credit. Houck says his father suggested "If Ever" as a title, which turned out to be good advice. It's one of two songs on Big Dreamers that Houck co-wrote with Nashville songwriter Radney Foster. In addition, bluegrass star Jerry Douglas plays Dobro on "The Road You Don't," a poignant song about parental wisdom. 
Echoing the classics that are still heard on beach music radio stations, "Carolina Grand" conveys the vivid imagery of coastal life, both past and present. For three generations, Houck's family has kept a vacation home near Ocean Drive in North Myrtle Beach. Vaden mentioned to the band that his childhood home was somewhere in the area, too. While passing through on tour, they were stunned to discover that the houses were just one block apart. With a horn section and a groove not unlike Sam Cooke, the lyrics (written by Houck and Vaden) should resonate with anyone who spent their summers on these sandy beaches. 
"Any time I hear the Blue Dogs, it takes me home to the Carolinas," Vaden says. "I feel like they have never gotten the recognition outside of South Carolina and the Southeast circuit. So, I hope this album can get them out there a bit more and gain some new fans who will look back at their legacy as well. These guys deserve the type of record we made." 
As Big Dreamers winds down with the blues textures of "All Out of Time," a listener may wonder if in fact the opposite is true. 
"It felt remarkably easy to be in the studio again," Houck says. "I didn't want to put out a record that didn't feel like it was as good as anything we've done. And I didn't want to the story to end with, 'Well, they tried. They were full-time and didn't make it.' Doing this record means the dream is still alive."
BLUE DOGS in my view……….by "Beatle Bob"
Bluegrass worthy of being blasted out of the windows of a Plymouth Barracuda with 451 Hemi engine, the Blue Dogs boast a personal history that has endeared themselves to the nascent "alt-country" scene with a whiz-bang melding of roots-rock rumble, bluegrass chicanary, and honky-tonk reverence.  
Like mad cutural terrorists, they've taken the norm and fed it through a Americana blender. Youthful and deep-dyed bluegrass taken to the next level - and it is both timely and exciting!  
Blue Dogs' fans are predominantly hard-working, twenty-and thirty-plus-somethings who have developed a fierce loyalty and deep love of the collective's conversion-by-force performances. The Blue Dogs' fierce work ethic - long tours and long sets - and enduring spirit both are genuine. With as big-as-the-room personas, an ability to rock the doors of the most jaded clubs, the heart to hold a room completely still, and a genius for arrangement, these merry makers are one of the most unique bands around. They are in favor of laying themselves at the feet of a rambunctious, freewheeling, unfettered sound, and wood-shedding it until so-called roots revivalists, snooty bluegrass purists, and alt-country poseurs are sent into paroxysms of self-doubt and years of expensive therapy.  
And just who are these South Carolinians who dare to breathe fresh life into the overly stoic, staid and mossback world of bluegrass? Anchoring this rambunctious lot with his percussion guitar and gift for lyrics is Blue Dogs founder Bobby Houck. Bobby has testified as a most innovative songwriter and performer, content on warping the classic Nashville sound and embracing the eccentric. Houck can work the crowd like a carnival barker who also happens to write tender, honest songs that move the room to awed silence. His is the voice that gently and at times spiritually strokes the senses like the hairs on a feather, but can still sound like a neat glass of single malt in a world of Michelob Light.  
Long-time Blue Dog Hank Futch delivers piledriver upright bass and harmonies directly from the choir (and banter directly from the truck stop parking lot). David Stewart presents a flabbergasting prestidigitation on the electric guitar, and it is rumored that he has never played a bad solo. Ever. Greg Walker provides the fiery percussion and the wild-eyed stares that fans fear to love and love to fear. Guaranteed to lighten up even the sternest-visaged among us, the Blue Dogs provide enough sensory overload to batter back whatever bummed you out to begin with. Do not miss the opportunity to catch the healing power of this band live, who will put a smile on your face and drink one with you after the show.  
What's most remarkable about the Blue Dogs' nine CDs and live DVDs is how effortlessly catchy they are. For all the posing, posturing stuff that gets released every year -- you know, the clever-clever, trendy, arch material that critics are supposed to like but nobody buys -- there are always acts like the Blue Dogs -- the sort of group that looks back at the ever-lengthening history of Americana music, pinches the best bits and still comes up with something that sounds original. Musically they stay close to the roots with their stellar ensemble pickin', but their snappy original material and their ability to transform roots-rock chesnuts proves that there's nothing retro or neo in this gang. It sounds like rib meat falling off a bone.  
The only real curiosity about the Blue Dogs' career to date is that they their recordings aren't as eagerly awaited with the anticipation that greets the latest Ricky Skaggs or Lyle Lovett. But it's clear that their passion for melding bluegrass and country-rock puts them in the position to bring this lively, distinctly American form of music out of isolation and into the ears and hearts of audiences across the country and around the world. Blessed with an abundance of talent and a lifetime of musical experience, the Blue Dogs have been keeping this flame for twenty years, an heroic task, and they have done so with humility and a deep love that has only gotten deeper over time. Help them, won't you?  
Beatle Bob  
St. Louis, MO  
July 2007